Published: 12/02/2023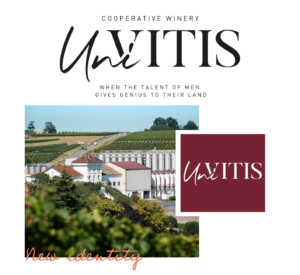 This logo is the result of a desire for modernization and freshness. It is also the will to show that a new wind is blowing on the vineyards of the Southwest.
This new logo represents with sobriety all the values that our winery wishes to transmit. We have deliberately played with the fonts.
Thanks to the handwriting, we wanted to highlight the human dynamics that characterize us.
The second font, more classical, shows that Univitis is very attached to tradition and know-how.
These writing games also allow us to accentuate the word "Uni" and underline the union and cooperation as strong values of Univitis.
For more information, see our presse release : Communiqué de presse – Nouveau logo Univitis