Published: 30/11/2021
Today, we are going to meet Mikaël Cousinet, President of the wine coopérative since July 2021 and Romain Villard, General Manager, since January 2021.

Mikaël, can you tell us about yourself?
"I grew up surrounded by vines. For me, the cooperative winery is a family affair; my parents, grandparents and great-grandparents were winegrowers. In fact, my grandfather was one of the founding members of the first winegrowers' group in 1935. We've been doing this business from father to son since 1848.
Deep down, I had always said to myself that one day I would take over the family estate, Château Tour Sivadon, even though I began my career in precision mechanics. It was in 2008 that I decided to focus 100% of my time and energy on the family business.
Even if we sometimes have a different approach, like my father, I place quality at the heart of my work.
I successively held the positions of member of the Univitis board, Vice-President for five years, before being elected to the presidency of the cooperative on July 28, 2021.
I am committed to defending the values of the Cooperative through my daily involvement in our Cooperative as well as in other bodies such as the FNSEA."
Mikael Cousinet was re-elected President of Univitis on May 10, 2023.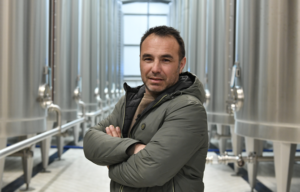 Romain, can you tell us about your background?
After embracing a career of over 10 years in the French Navy with the Special Forces, I discovered the world of production and logistics with a Languedoc-Roussillon wine merchant, where I successively held the positions of Logistics Manager, Production Manager and Site Director. I joined Univitis in January 2018 as Production Director. I was appointed General Manager of Univitis in January 2021.
Mikaël, can you tell us what direction Univitis is taking?
For the past three years, we have been encouraging and supporting Univitis members to move towards more environmentally-friendly viticulture, in particular by obtaining HVE (High Environmental Value) certification. These orientations are additional efforts for the farms, but they make sense in terms of our virtuous approach, our environmental footprint and the need to meet market requirements.
To date, 17% of our members' acreage is organic or in conversion to organic, and we have achieved 80% HVE (High Environmental Value) certification.
Aware of the contextual challenges and market needs, the Board of Directors has focused its main strategy on increasing production (Vin de France and IGP).
Romain, how are Univitis' strategic priorities defined today?
Our main ambition is to consolidate a sustainable business, to sell off one harvest per year in its entirety and to redeploy our strategy across our various activities: marketing our own products, selling bulk wine, providing bottling services and contract bottling.
Since the beginning of 2021, we have been working to re-establish a functional and operational sales organization.
Our priority has been to reassure our trading partners, win back our long-standing customers and, at the same time, drive forward our local, national and cross-border development on a massive scale.
To achieve this, we have reviewed all our product ranges to ensure that they are in line with the needs and expectations of the various markets.
To keep pace with changing consumer trends, we have redefined our product profiles and styles.
We have been facing challenges over the past 2 years due to the health crisis, difficulties in the industry, the inflationary context, supply disruptions, climatic events… But collectively, we remain relentlessly committed to improving our development and the remuneration of our members, who have been severely impacted during this period.