Published: 30/11/2021
Today, we are going to meet Mikaël Cousinet, President of the wine coopérative since July 2021 and Romain Villard, General Manager, since January 2021.

Mikaël, can you tell us about yourself?
"I grew up among the vines. The wine cooperative is a family affair for me; my parents, my grandparents and my great grandparents were winegrowers. My grandfather was one of the founding members of the first winegrowers' groups in 1935. We have been doing this job from father to son since 1848.
Deep down, I had always told myself that one day I would take over the family property, Château Tour Sivadon, even though I started my career in precision mechanics. It was in 2008 that I decided to concentrate 100% of my time and energy on the family business.
Even if we sometimes have a different approach, just like my father, I place quality at the centre of my work.
I have been a member of the Univitis board for several years. I was Vice President for five years, before being elected President of the cooperative on 28 July 2021.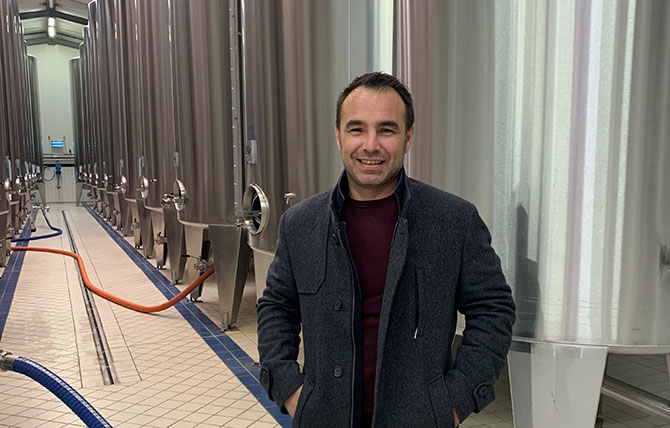 Romain, can you tell us about your background?
After a career of more than 10 years in the French Navy within the special forces, I discovered the world of production and logistics at a wine merchant in Languedoc-Roussillon where I successively held the positions of logistics manager, production manager and site manager. I joined Univitis in January 2018 as Production Manager. The General Management of Univitis was then entrusted to me in January 2021.
Mikaël, can you tell us what direction Univitis is taking?
For the past three years, we have been encouraging Univitis members to turn towards more environmentally friendly viticulture and, in particular, to become HVE (High Environmental Value) certified. It's not easy, but our environmental efforts continue on a daily basis.
Within a year, 15% of Univitis members will be in organic conversion and we hope to have 90% HVE certification by the end of 2021.
Romain, how are Univitis' strategic priorities defined today?
Our main ambition is to consolidate a sustainable activity, to sell the whole of one harvest per year and to redeploy our strategy on our different activities: the marketing of our own products, the sale of wine in bulk, the bottling service and the bottling of custom-made products.
Since the beginning of the year we have been working on re-establishing a functional and operational commercial organisation. Our sales director for France and our export sales director are working towards this goal. Major efforts have been made to win back our historical partners and customers and also to attract new markets. To do this, we have reviewed all our product ranges so that they are in line with the needs and expectations of the various markets.
Thanks to the arrival of our new technical manager, we are also working on adding value to our wines in order to improve the remuneration of our members who have been severely impacted during the period of the pandemic.