Published: 03/04/2023
Sushi and Thai spring salad with Château les Vergnes White Organic
What could be better than eating fresh sushi and an avocado/shrimp salad under a beautiful spring sun? We are already dreaming about it!
Château les Vergnes White Organic is a dry and fruity white wine from the South-West, with notes of citrus, lime and white flowers.
It is the perfect wine to accompany light and fresh dishes, such as spring salads, sushi and seafood!
For your picnic, you can prepare a shrimp and avocado salad with cherry tomatoes and an orange vinaigrette, but also your own sushi! Today, there are kitchen tools that make it easy for you to prepare them.
The floral and fruity aromas of Château Les Vergnes Organic white wine will perfectly match the freshness of your picnic.
To be enjoyed between 9° and 12°C.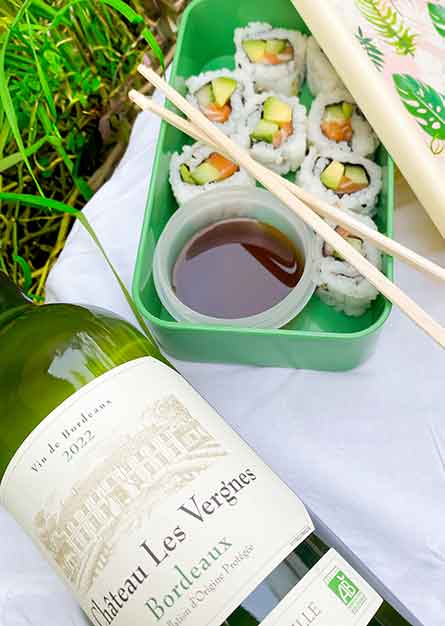 A spicy picnic with chicken samosas and a Fleur de Mondésir Red
Fleur de Mondésir Red is a dry, fruity red wine with tangy notes of ripe red fruits and sweet spice aromas.
With its fruity touches and pronounced taste, this Southwestern wine is perfect to accompany spicy and exotic dishes, such as Mexican specialties! That's why we suggest a spicy chicken samosa with a mint and yogurt sauce for a tasty picnic.
Its mild spicy notes will bring out the spice and mint in your sauce! This wine pairing is perfect for a spring picnic.
To be enjoyed between 15° and 17°C.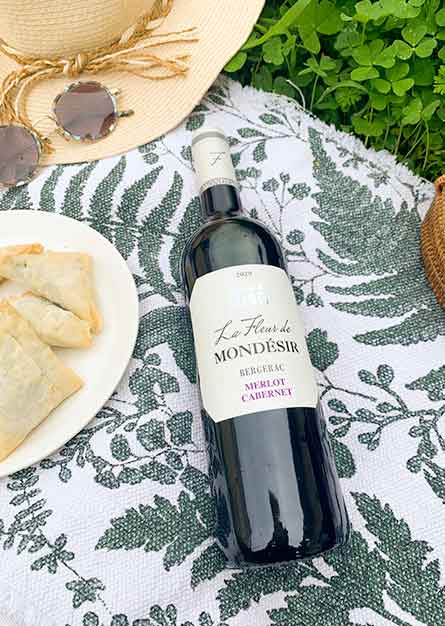 Nordic toast with La Fleur de Mondésir white wine from the Southwest
With the return of the warmth of the sun, picnics also mean cold food!
Easy and delicious, Nordic toast is the perfect dish for a successful spring picnic, and here's our recipe for delicious toast: in a bowl, combine dill, capers, finely chopped pickles and cream cheese. Season with pepper and mix well.
Spread your mixture on toast and add slices of smoked salmon on top! You can also add avocado or salmon roe as a topping.
With these toasts, we recommend Fleur de Mondésir Blanc. This dry white wine, fruity and floral, with notes of citrus and white flowers, goes perfectly with light and fresh dishes such as salads, seafood or vegetarian dishes.
It will enhance the taste of salmon and spices on your Nordic toasts!
To be enjoyed between 9° and 12°C.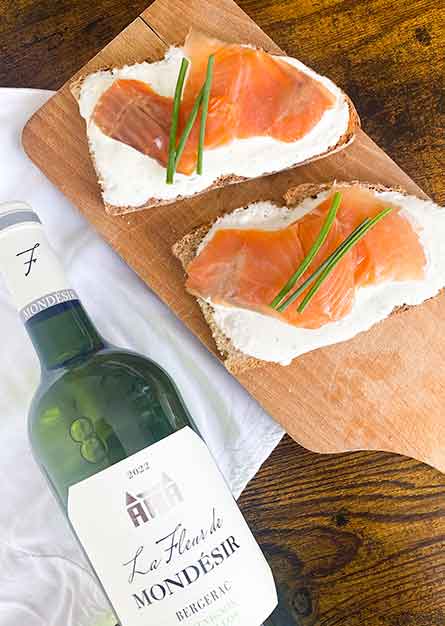 A sweet and sour salad with Fleur de Mondésir rosé wine
With the arrival of spring, rosé wine is making a comeback, to our great delight!
Fleur de Mondésir Rosé Univitis is a dry, fruity and refreshing rosé wine.
This rosé wine from the South-West offers floral and fruity notes of strawberries and raspberries. Its texture is light and refreshing, making it a perfect choice for a sunny day at the picnic!
To accompany this wine, a salad with a mix of sweet and savory flavors would be perfect!
We recommend choosing ingredients that highlight the fruity and floral flavors of the wine, such as fresh strawberries, toasted pecans, and chunks of mild goat cheese.
For a touch of protein, you can also add slices of grilled chicken or grilled shrimp. The salad can be dressed with a light vinaigrette made with red wine vinegar, olive oil and Dijon mustard.
Serve between 7° and 11°C.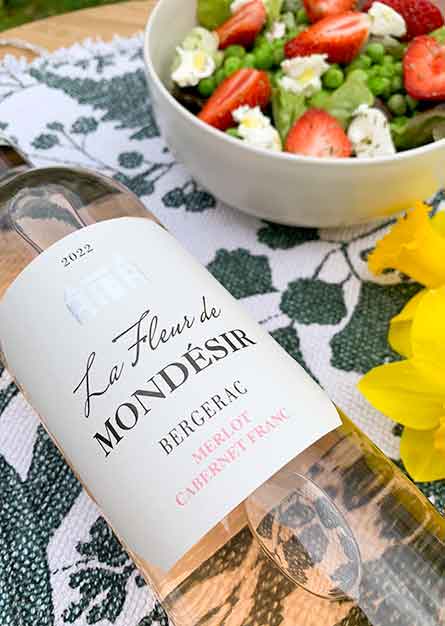 A quinoa salad with Côté Atlantique rosé wine
Quinoa is a traditional South American plant that has been cultivated in the Andean highlands for over 5,000 years!
For a spring picnic, you can prepare a quinoa salad with shrimp and citrus, accompanied by a lime and cilantro vinaigrette. This dish will be perfectly balanced with the Côté Atlantique Rosé Univitis!
This Southwestern rosé wine is a dry and fruity wine with notes of peach, melon and red fruits. With its touch of Atlantic Coast freshness and all its fruit flavors, it will be perfect for your beautiful quinoa salad. You can also opt for pizzas topped with fresh vegetables and goat cheese for an even tastier pairing!
To be enjoyed between 7° and 11°C.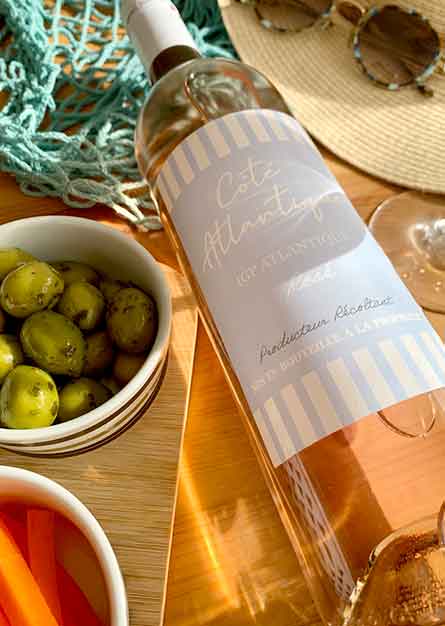 Chicken skewers and cheese platter with the Grand Théâtre Red Organic
For the more carnivorous, you can prepare chicken brochettes marinated in a homemade barbecue sauce, accompanied by grilled vegetables and potato salad for your picnic! As good hot as cold, these brochettes will satisfy both young and old.
This dish will be perfectly balanced with Grand Théâtre Red Organic. This dry, full-bodied red wine from the Southwest of France, with notes of black fruits, spices and leather, has everything it takes to enhance the marinade of your chicken brochettes.
You can also opt for a cheese platter accompanied by fresh bread and dried fruits for an even more gourmet match!
To be enjoyed between 15° and 17°C.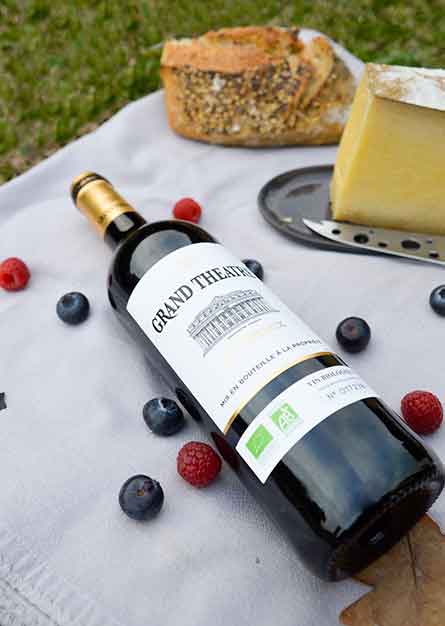 In conclusion, Univitis wines are the perfect choice to accompany your food at your spring picnic!
Don't forget to serve them chilled (for white and rosé wines) for an even more enjoyable tasting experience. Enjoy your meal!