Published: 22/11/2022
A complicated season for our winegrowers
The 2022 season was punctuated by a number of weather episodes that made life difficult for our winegrowers and their vines.
In April and June 2022, we were affected by frost episodes that weakened some of our member vineyards. Some Merlot, Sauvignon Blanc, Semillon and Cabernet Franc vines lost part of their buds but this loss was partially compensated by new shoots.
During the month of June, the vines were also marked by hail storms which caused a lot of damage around our cooperative winery.
The summer of 2022 was very hot and its temperatures allowed us to limit the treatments and to obtain healthy vines. Thanks to this heat, we were able to reach an optimal maturity.
First totally organic year for Château Les Vergnes
The Château Les Vergnes, property of Univitis, has started its season with the totality of its plots in organic farming. Our team of 6 vineyard workers attached to the chateau worked hard throughout the season to obtain a harvest that was as qualitative as it was quantitative, despite the various weather conditions. We also collected 2 hectares of Sémillon Blanc in late harvest to create a sweet Sainte-Foy Côtes de Bordeaux. This exclusively hand-harvested cuvée will be released in a limited edition soon!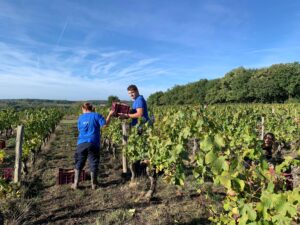 The 2022 vintage
On August 25th, we started picking our white grape varieties. The harvest gave aromatic wines with a nice freshness in mouth.
As for the rosé, we harvested the following week and we obtained a wine with a beautiful pale raspberry color and notes of red fruits.
In mid-September, we started working on our black grapes. In the winemaking process, the objective was to create several wine profiles in order to vary the cuvées and to obtain wines with character. In the vats, the red wines have a beautiful color, a rather concentrated and dense attack and a nice length with silky tannins on the finish.
For the year 2022, we will have a solar vintage full of many episodes which will give a wine of a very good quality.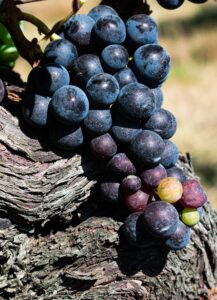 Univitis celebrates the end of the harvest with the Gerbaude
As tradition requires, Univitis organized on October 6 an evening to celebrate the end of the harvest season. The winegrowers and the employees met around a good convivial meal. It was an opportunity to exchange and share the feelings about the season!